home latest news
Latest issue
The latest issue of AMCS, 2017, Vol. 27, No. 1, is a regular one and covers 15 papers. Many thanks to the Authors for their cooperation with us on this issue!
24 March 2017
Forthcoming issue
The next issue, 2017, Vol. 27, No. 2, will be a regular one, to be published at the end of June 2017.
24 March 2017
Author resources updated
Please note that our LaTeX class and instructions for authors have been modified to add new functionalities and useful guidelines. Make sure you download the currently biding versions from the Guide section.
18 January 2017
Back issues digitized
We are happy to announce that as of today full texts of all AMCS publications are available online – the back issues of our journal, i.e., Volumes 1–10 (1991–2000), totalling 410 papers, have been digitized as scans and made available for download. We hope this will make the earlier works better known in the scientific community.
21 December 2016
Our Impact Factor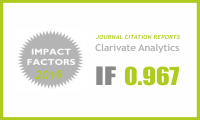 Our most recent Impact Factor (for 2015), published in Thomson Reuters' Journal Citation Reports/Science Edition, amounts to 1.037, while our new 5-Year IF is 1.151. We appreciate all contributions and hope for continuous interest in our journal.
14 June 2016
Polish ministerial points
According to the announcement of 12 December 2016, papers published in AMCS receive 25 points in the evaluation procedure of the Polish Ministry of Science and Higher Education (Part A of the list). Details.
26 January 2017
2017 Subscription
We encourage everyone to subscribe to the print version of our journal for timely and steady supply of our publications. To enter your subscription, please visit the Subscription section.
Recommended reading
We would like to draw our Readers' attention to the following recent articles:
Optimization of the service strategy in a queueing system with energy harvesting and customers' impatience game by Alexander Dudin, Moon Ho Lee, Sergey Dudin, considering a single-server queueing system with an infinite buffer (2016, Vol. 26, No. 2)
On-line parameter and delay estimation of continuous-time dynamic systems by Janusz Kozłowski, Zdzisław Kowalczuk, who consider the problem of on-line identification of non-stationary delay systems (2015, Vol. 25, No. 2)
A robust computational technique for a system of singularly perturbed reaction–diffusion equations by Vinod Kumar, Rajesh K. Bawa, Arvind K. Lal, where a singularly perturbed system of reaction–diffusion Boundary Value Problems (BVPs) is examined (2014, Vol. 24, No. 2).
Electronic newsletter
To receive our quarterly electronic newsletter, please apply to the Editorial Office.